Online registration will be open Friday October 7th !
Registration will be OPEN until we are at capacity.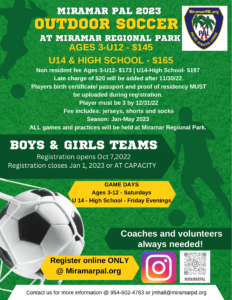 To register Click link below
https://leagues.bluesombrero.com/miramarpal
Click log in for a returning user or register if you are a new user.
Fill out all information for the parent and child.
Programs will be available for your child click and answer the following questions.
Please upload birth certificate/ passport and proof of residency.
Submit online payment.
Ages 3 through high school. Birthday not later than 12/31/2019
Ages 3 – U12: $145.00
U14 and High school: $165.00
Non-Residents will be charged an additional 20%.
Number of players per team are LIMITED
We will be following the CDC guidelines.
Practice is twice weekly, 6pm or later. Games are on Saturdays for Pee Wee – U12.
Games on Friday nights for U14 and High School Divisions.
Online Registration only except for coaches.
https://leagues.bluesombrero.com/miramarpal.
Fees include jersey, shorts and socks. Parents must provide shin guards, ball and cleats. Shin guards are mandatory.
Cleats are optional for 3 year old players.
Contact Jordan Hall at 954-602-4783 or jmhall@MiramarPD.org for information about the 2023 Soccer League played at Miramar Regional Park.